Howdy folks. It's me, again, Mike's car seat. I know it's been a while since we last chatted but I'm back with some important car seat safety reminders for you to  take on the road with you this busy holiday weekend.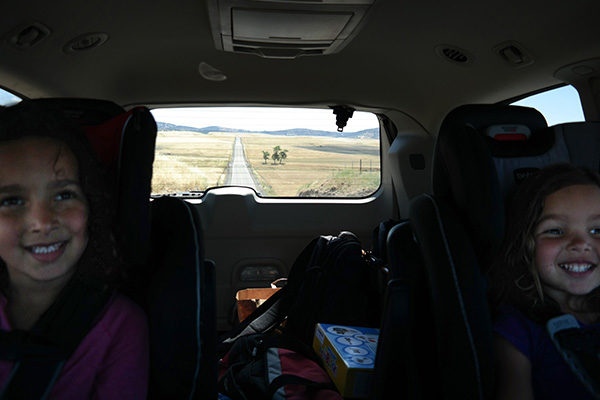 With more than 38 million people anticipated to kick off the start of Summer by taking to the roads for Memorial Day Weekend, your chances of an accidental catastrophe behind the wheel are increased exponentially. Well, you know me. I've got but one job to do and that is to keep my child passenger safe.
As the primary caregiver of two young daughters, my owner Mike has many jobs to do. As primary minivan pilot, paramount among those jobs is remaining vigilant, diligent, and well-informed when it comes to proper car seat installation and child passenger safety. With the help of AAA, the Nation's leader in developing and supporting educational and safety programs for motorists, pedestrians, cyclists, and children, Mike has become a veritable master of myriad car seat installation scenarios. The routine van cleaning. The sleepover switch-out to the in-laws' vehicle. And of course, the infamous roadside tummy "emergency" incident on the winding lava-rock-laden roads that climb the Hawaiian mountainside on the way up to the Akaka waterfalls car-seat-apalooza. Oh, you've yet to hear the story of Projectile Mile? It's a short one. Like to hear it? Here it goes.
You see, I belong to a seriously road-tripping NorCal family of four. I think they love nothing more than packing up the minivan, strapping in my child passenger, and that of my partner car seat, ticking through a mental checklist of proper buckling up and the most commonly made car seat mistakes, and hitting the open road. We've been all up and down the California coast together. Cliffside, along Highway 1 and the "world's most beautiful freeway." Up Highway 4 to the sequoia-strewn majesty of Stanislaus National Forrest and the family cabin. We've boarded numerous planes together and jetted off to the East Coast to tackle that dreaded clusterfudge of a freeway they call The Beltway. But our hands-down favorite roads to traverse on vacation reside on a 4,028 mi² island in the South Pacific, and we've driven them several times over several years, as a family unit.
Look, here's what a typical drive around The Big Island of Hawaii looks like. Only as far as a Starbucks drive-thru, mind you, but hey – I'm setting a scene here.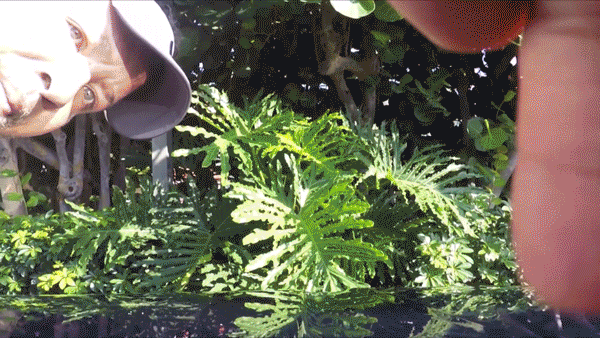 And here's the aftermath of "Projectile Mile" on our most recent road trip around the island. That's me there, tipped over on the roadside. Soaked and holding my metaphorical nose.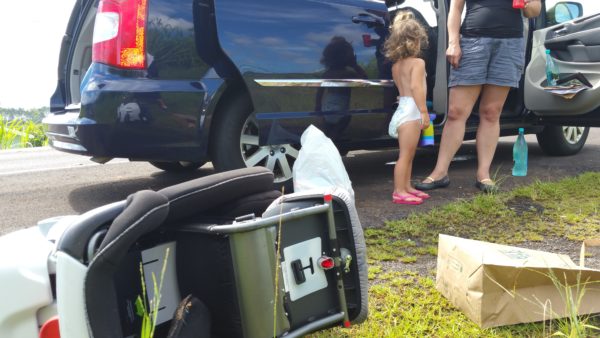 We were on our way up the serpentine street that splits off from the craggly Hamakua Coast and circles its way up to higher elevation and the lush rainforest that houses the falls. Typical Hawaiian humidity. A particularly grueling heat that afternoon and as the van navigated the sharp, cutback  curves, my poor kid passenger sloshed side to side with the turns and fore and aft against the acceleration and elevation.
Through my front fabric, I could hear the tummy rumblings of a toddler who had consumed quite a bit of water to stay hydrated, on top of her typical after-breakfast milk allowance. Back and forth the van swayed. Having been properly installed, and double checked, back at the car rental agency, I didn't budge a bit in my seat, but my seat followed the motion of the van, of course, and I knew something was amiss when my kid's hands shot up to cover the mouth of her now pale and pasty face and in an instant it happened.
She – what did my owner call it? –  earp'd. She yak'd. She blew chunks and liquidated her assets all over me and everything else.
It was an awful, guttural noise that emanated forth as stream after stream of the stuff jetted out of her gob and fractured into multiple torrents between her fingers.
Fortunately, for all of us, my child passenger refuses to drink Hawaiian tap water and so between her pickiness and the day's high temperature, my owners had a few large bottles of water on hand. They  pulled over on a safe shoulder and proceeded to uninstall me and scrub me down as best they could with bottled water and Starbucks napkins.
Why do I tell this story, you ask? Because you should have seen the confidence and competence with which my owners were able to expertly re-install me, there on the side of the road, after that rather memorable episode. They had my manual on hand, just in case – a travel tip suggested by AAA and car seat manufacturers alike – and were able to instantly recall the lessons learned from the AAA Car Seat Safety Inspection Event we attended last year.
✔ Harness straps flat and tight.
✔ Retainer clip high and tight.
✔ Utilizing a single installation system.
✔ Straps and anchors tucked.
✔ Wearing a heavy jacket? Yeah, right!
We were back on the road in no time and my owners got to enjoy the falls after all, with the little nauseous one in the only other clothes they had on hand.
AAA offers members, and non-members alike, the gift of Car Seat Safety and peace of mind. Certified technicians will inspect your child car seat, in most cases free of charge – and show you how to correctly install and use it. Even in Hawaii!
Click here to find an inspection station near you.
If you're in Northern California (Like us!), Nevada, or Utah, find your car seat inspection location here.
Happy travels, friends and neighbors. I'm not sure where I'll be carted off to this holiday but I am certainly looking forward to finding out. I hope you thoroughly enjoy a safe and happy Memorial Day Weekend of travel with the crew that means the most to you!
This post is sponsored by AAA Northern California. in conjunction with their Child Car Seat Safety program. The facts are the facts and the opinions are solely my owner's.