It is morning and the sun's nimble digits have just started to part our blinds.
It is Sunday, so I can't be at the keyboard long since my Mini Me's are already up and raring to go terrorize the neighborhood playground. But I bought myself a moment with a single orange sheet of construction paper, and so  for the moment, The At-Home Toddler Daughter is content to  diligently engineer "Swinging Paper Robots," while I write. (a process that consists of, 1. Folding an orange piece of construction paper exactly in half.
2. Screaming "LOOK DADA I MADE A SWINGING PAPER ROBOT! repeatedly and unrelentingly for the next who knows how long.)
It has been a strange and humbling and somewhat self-validating sort of a weekend since I wrote this and then this, that and the other happened.
The other:

It has been my first, and widely welcomed, experience with attempting to field a barrage of comments. Engagement, they call it. Or at least that's what they call it when you respond. While the experience has been surreal, mostly flattering, and all sorts of strange, there is one recurring comment I feel compelled to address "publicly" in the off chance that this brief bit of exposure has gained me some semblance of a "public" for a few days. This sentiment keeps rearing it's, not quite ugly but sorely misinformed, head:
"Way to go Dad! If only there were other real dads out there like you! -Debbie"
As flattering as that may seem or may have been designed to be, I want you all, anyone and everyone, to know that I am not some Good Dad Lone Ranger.
I am not particularly special, I am just a husband and a father, head over heels in love with his family, who happened to be able to afford a laptop one summer.  Of course I appreciate the recognition, and I am no crusader for any Dad's Lib movement, but I can't help feeling that it is an injustice to countless other dedicated, passionate and present Dads the world over, to single me out as one of the only Dads who spends most of his days at eye level with his ankle biters, and cherishes the opportunity.
So I just wanted to pause here a minute, and encourage you to read through the posts that I have showcased below. In them you will find the writings of  just a handful of some of my most revered Dad friends.  Some have received international acclaim, some I picture humbly scribbling post notes on the backs of napkins in some small, midwestern, railroad depot some where.  All of them are heavily dedicated Dads who champion their own gorgeous families and personal causes, through aesthetically assembled words and poetic turns of phrases, daily. I thank you in advance for reading and sharing and engaging them with your thoughts and ideas and responses to their posts.
Thank you all for a rather wacky weekend.  And for continuing to lend me your ears over here. (eyes?) Now, to the playground we go, my girls and SWINGING PAPER ROBOT in tow!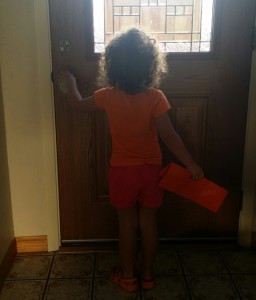 Ciao for now,
Dada Mike