Despite the sheer awesomeness of all of the Family-Friendly events that we've attended with SF Dads Group, lately, I'd be lying if I said I wasn't super stoked to be attending this one, sans kids!
What's brewing: SF Craft Beer Festival – Fall Harvest comes to Fort Mason Center in San Francisco, Saturday October 18th!
The haps on the hops:  The Fall Harvest-themed tasting will include two sessions (afternoon and evening) and showcase fall craft beer releases from 75 of America's best craft breweries (nearly 150 different beers), with a special focus on breweries from San Francisco and the Pacific Northwest.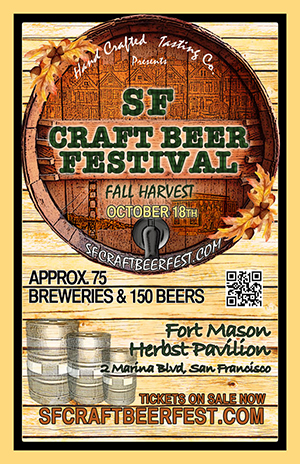 In an effort to thoroughly prep myself for what to expect, I reached out to fellow Dad Blogger, and renowned craft beer podcast personality, Douglas Derda. Douglas was kind enough to put together this quick list of  seemingly invaluable beer fest dos and dont's.
–
When I attended my first beer fest in 2006 I wasn't sure what to expect. Back then they were relatively small, cheaply priced and you only found real beer geeks with the occasional "my significant other dragged me here."person. Since then the industry has seen a boom and with it came the influx of festivals that have made them as common as Tuesday night Bingo at the VFW. I've seen the good, the bad and the OMG WHAT WERE YOU THINKING so here are some thoughts as you get ready to attend your first fest.
1) Do your homework – Find out what breweries will be attending. You don't know how long the lines will be so plan out which ones are your must visit.
2) Take a beer vet – Beer fests today can be overwhelming which is why you should meet up with someone who knows how these run.
3) SWAG! – You'll receive a commemorative drinking glass when you enter the fest. This will be the first of stickers, bottle openers, and other free things you can expect to come home with.
4) Don't be afraid to ask questions – Every one of us was a beer newbie at some point. When you're getting a sample feel free to ask questions about the beer. The brewers/reps are there to talk about how great their beers are and what makes them unique. Also be mindful if there is a line behind you. Gotta keep the flow going or a bottleneck will cause some people to get stabby.
5) Wash your glass – Brewers tables sometimes have pitchers of water or there will be rinse stations set up. Keep your glass fresh!
6) Stay hydrated – Very good, beer is made with water but lets be real here. You don't want to be a blubbering mess and if you're out in the sun you'll thank me. Most festivals have water or alternative beverages for those not drinking. Know where they are.
7) Have fun in the moment – Its fine to take a few pics but then put it in your pocket. Soak in the greatness of the present day craft beer scene and enjoy the beer.
On a final note, pick up some Pedialyte and drink this before you go to bed. It will greatly reduce your hangover in the morning.
"We encourage sensible tasting. One of the things that distinguishes our festival programming from other festivals is the smarter, more sensible demographic
we attract." – Robert Howell, one of many SF Craft Beer Fest organizers
–
Thanks, Douglas! I'll be armed with your imparted wisdom, my Caltrain ticket, several "beer vets" from SF Dads Group and a thirst for craft beer knowledge.
Local dads, for a chance to receive FREE TICKETS to SF Craft Beer Festival, join SF Dads Group here!
For more festival tips, read 7 Tips For Fun and Survival at Beer Fests.
For more information on the festival, itself, click through the links in the graphic below and follow along @SFCraftBeerFest.
GA & VIP TIX SELLING FAST

GET YOURS NOW AND SAVE!

Oct. 18th, Herbst Pavilion, Fort Mason

75 AMERICAN CRAFT BREWERIES

150 CRAFT BEERS, CIDER, & MEAD

Unlimited 2 Oz. pours

Exciting NEW additions added to our tasting room floor

Main Floor Showcase Breweries & Beers

Aphotic Baltic Porter

Old Stock Otuschi 2012

Old Rasputin

India Pale Lager

Dirt Wolf Double IPA

Hammerhead

Old Chub Nitro (Nitro Cans)

Simtra Triple IPA

Chris Banker /Stone /Insurgente Xocoveza Mocha Stout

Denogginizer

Drakonic Imperial Stout

Apple Pie Mead

Zymaster No. 6

25th Anniversary Beer

Pale Ale (with Odell)

Chez Panisse

Butchertown Black IPA

Pumpkin Seasonals

Hoptologist

Oatis Oatmeal Stout

VIEW THE REST OF OUR GREAT BREWERY & BEER SELECTION HERE

CRAFT CONCIERGE CENTER

San Francisco Craft Beer Festival's
Educational Initiative!

Craft Concierge Team
Staffed by craft beer cicerones and the industries most knowledgable professionals
Streamlined Untappd Check-ins
Malt & Hops Sense Lab
Seminars

FIND OUT MORE ABOUT WHAT TO FIND AT THE CRAFT CONCIERGE CENTER

SEMINARS

Ken Weaver -" The Future of Craft Beer"


In his role as Editor-in-Chief of RateBeer Weekly, Ken Weaver spends a good portion of his professional life trying to figure out what's next in craft beer. From global expansions to ingredient lag, beer trading to beer festivals, boutique hops to better yeast, this chat will provide an insider's take on what will shape the future of what you drink.

---

Gail Ann Williams – "Stepping into the Sour Beer Renaissance"


Join beer journalist, beer judge and homebrewer Gail Ann Williams for a multi-sensory tour of the alluring world of sour beers. We'll taste some of the best local commercial examples, talk about flavors and how they got there, laugh a little and learn about the traditions and trends around these tart, "funky" and captivating fermented libations. READ MORE

Producers of

NYC Craft Beer Festival and DC Craft Beer Festival

Please feel free to forward this e-mail to friends, family and colleagues.