Disclosure: I have been compensated for this post, but the opinions herein, including the one where I'm ticked that I can't take my own kids to see this flick, just yet, are wholly my own.
–
Since starting this blog in February, my three year old daughter and I have been given opportunities to embark on adventures that have been, well, "out of this world," to quote the colloquialism.
Taking them to see a full length feature film, however, is not one I'd undertake at this hyperactive, high decibel, third year juncture of our journey. There's just not enough duct tape in the world to make that work.
So when I heard about the sci fi adventure film Earth To Echo, the July 2nd, Relativity Media release starring Teo Halm, Brian "Astro" Bradley, Reese Hartwig and Ella Linnea Wahlestedt as brave young adventurers banding together to protect a mysterious, loveable, life-form (Who can resist the charm of a biomechanical owl-looking, little alien dude that squeaks and bleeps adorably and gazes up at you with its big, celestial baby blues?) from the clutches of government agents that are after it….I  lamented the fact that we'd have to skip it on the big screen this go-round.  But the movie is screening exceptionally well for kids (and parents!) aged 5 and up, so…
One lucky winner will receive the following "Summer Adventure With Earth To Echo" Prize Pack At The Bottom Of This Post!
$25 Visa gift card to see the film in theaters 

BikeGlow Safety Light

Earth To Echo Frisbee, Fan, Beach Ball & Bike Clip
Prize pack valued at $55
Open to US & Canadian mailing addresses only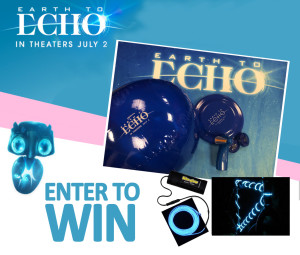 About the Film
"Friendship is the greatest adventure of all. In theaters July 2, 2014.

Tuck, Munch and Alex are a closely bonded trio of inseparable friends, but their time together is coming to an end. Their neighborhood is being destroyed by a highway construction project that is forcing their families to move away. But just two days before they must part ways, the boys find a cryptic signal has infected their phones. Convinced something bigger is going on and looking for one final adventure together, they set off to trace the messages to their source and discover something beyond their wildest imaginations: hiding in the darkness is a mysterious being, stranded on Earth, and wanted by the government. This launches the boys on an epic journey full of danger and wonder, one that will test the limits of their friendship and change all of their lives forever."
Rating: PG

The adventure is interactive!
If you've yet to hear about geocaching, get clicking! I did, and I can't wait until my kids age a wee bit more and I can get them into the outdoor, high tech, interactive treasure hunting game.
But you can join the hunt right now. Go on a Geocaching adventure in your city with Earth To Echo! Play to unlock the mystery today. Head out in New York / Los Angeles / Chicago / Seattle!
Be sure to follow the Earth To Echo happenings on Twitter, Instagram, Tumblr and other social streams in the giveaway widget below. Best of luck winning our prize pack and getting your own little expedition party outdoors for some Earth To Echo geocaching fun. Report back here in the comments, and across social media with the hashtag #EarthToEcho. But please, #NoSpoilers!
Ciao for now,
Dada Mike
Enter here to win:

a Rafflecopter giveaway