J. Boogie,
When I wasn't much older than you are right now you might find me, on any given 'every-other-weekend', wandering the daunting hallway at my dad's.  I'd hang a sharp right and burst, unannounced,  through the door to his bedroom and there he'd be, on his knees like I'd seen him before in the pews, only here his god is an all-white powder in a Tony Montana mini-mountain on the razor-strewn night stand. An obscure dark figure that I'd come to call "uncle" stands over him, pressing the barrel of his handgun into the base of my dad's skull. You will never be haunted by memories like these.
That isn't my only memory of my father. He took me catfishing; the real kind.  He took my cousin and I to the go-cart  tracks to tear through the tire-lined course, lap after lap.  He took me to see Rocky IV at the drive in, and The Last Starfighter at lots of places.  I loved that man to death despite my mother's insistence that he was good for nothing, that he move out when I was two, that I have less and less to do with him over the years until I'm ten or so and relocated to California for good, more or less, under the pretense of Santa Cruz Skateboards and Ghiradelli's Chocolate Factory.
I started this blog the other week to force a place to pause upon myself, a space in which to reflect, to weigh, to gather. With no known network of support for reference I dove in headlong, much like I approached the task of becoming a father some three odd years ago; eager, but basically flying blind. As it stood it was  just me and this keyboard. Well, me and you two and your mama and whomever's eyes happen to peruse this post, and like all things parenting these days it got me thinking.
This fathering gig is a friggin' pressure cooker! From the Rockwellian portrait of perfect parenthood painted across social media, to the vacations I can't afford. The elitist private schools that would probably scoff at our family if we even considered that route, (which reminds me, today is the first day to register you for preschool or so says my calendar app, which is linked to my scrapbook app, where I scrapbooked that article about preschool, that I linked to my OneNote note-to-self about getting SERIOUS about your early childhood education, where I highlighted the annual cost estimate- can you believe those rat bastards want 7 grand for PRESCHOOL in our PUBLIC SCHOOL district?!- I digress, but you see what I mean by pressure?) So much snarky, unsolicited criticism, under the guise of advice, from the world at large.
Trying to outdo the prior generation is one of those universal, societal truths.  It stands to reason that each father wants a better life for his kids than the one that his father, and the fates, afforded him.  But where does the son of a deadbeat, or otherwise absent, dad look for a fathering model? What resource exists when you have hardly a single memory of how your father fathered you, save for some early outings and some later, concussive, head-butting?  How do you know what to DO or DO DIFFERENTLY if you've never been exposed to how it's done? How do you handle fathering blind?
Then I found the answer. Or rather, many answers, from many angles. I reached out online, and in the Facebook Dad Bloggers group I happened upon in passing, and the responses were cathartic and analytic and personal and welcomed with open eyes.
I "met" Carl Young of the Why Not Fathers project, a gifted writer and fellow survivor of a sordid past.   He shared the story of his less-than-stellar upbringing with me. I read about his adoptive and biological fathers and the pain and the wisdom that translated into love enough for him to adopt children, himself, to join him, his wife and birth-children in a packed but incredibly loving household.
Carl's was hardly the only support that poured in.  Darrell Milton of modernfatherfatheronline.com shared a post where he wrote about a recent documentary that touches on this very subject. Dad Blogger Jeff Tepper sang the praises of a handful of hip-hop tracks dealing with broken father relationships here.  Then this timely article came out and the planets and stars started to align.
My quest for fathering support, as well as blogging  'how-to' came to a communal crescendo when renowned blogger, but father first, Carter Gaddis turned me on to an annual meeting of the dad blogger minds where, to have him tell it, "There was a fabulous panel on flawed paternal role models at Dad 2.0 Summit. Here are Michael Moebes' live-blog notes about that panel, which included our own Ryan E. Hamilton and Charlie Capen, in case you'd like to check that out."  And check it out I did, and I reveled in the camaraderie and basked in the new found belief that I was hardly alone in either of these two pursuits!
Blogging.  Fathering.  Figuring out my life.  I have been an avid dad blog reader of late and have seen, and look forward to, the part where my posts can become conduits in which to focus the thoughts and ideas of others.  I aspire to a rich and eye-opening comments section where my ideas of the day can be batted around, contributed to or abused, abluted, disproved. It was even suggested to me that in light of the robust conversation I'd joined, that I consider turning this into a progressive post, in parts.  I am certainly excited to see where this may lead.
Last night you pulled on your Lightning McQueen galoshes and fwooped open your matching Cars™ umbrella and we set out for our nightly, rain-or-shine, lap around the hood.  Sometime after we high-fived our good buddy Mr. Palm T. Tree on one of his many frond hands,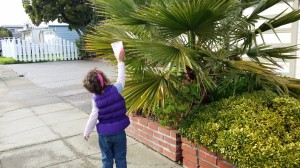 and sometime after the part where the Performance Arts Center on the corner comes to life, it's lit up ledges ripe for Humpty Dumptying and it's decorative benches our frog-hopping lily pads. Where the steep descent of it's wheelchair ramp opens its "automatical" doors for us and becomes our fantasy airport check-in line where you sit in my lap and my legs hug you tight and we slide down its hyper-speed rail and you sing your favorite gibberish refrain, "Go Buzz Lightning! Don't squeeze the nipple pilot!!" and we are transported magically back to Kona (the only vacation you can remember.)  Sometime after all that and before we reach The Planet Udon and crash land our rocketship on its tennis court landing strip and set off to explore it's vast mulch-dusted, slide and swingset surface, you look up at me from your knee-high reach and say something I vow to write down so's I'll never forget.
"Dada I am so lucky to have a dada like you."
And you are a three year old kid.  And you can count how many people you know on your hands.  And you have little to no experience with luck, with other dads or with the concept of relative rating.  You have never been a three year old kid before and have not one other three year old kid around to teach you how to be a three year old kid, and Baby Lady, let me tell you, you are MASTERFUL at it.  And I told you as much as we were finishing the last leg of our lap, past the 'shadow dancing tables' and the sidewalk painting of "soccerballicecream,"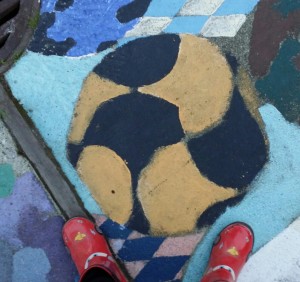 and I had to explain "happy tears" to you while we bent to smell the wet rosemary bushes.
So when I take these moments of pause, to reflect, to write about our day-to-day, I know that I will only ever need you as my measuring stick. We will attempt, succeed and fail together in our respective roles, with nobody to tell us how it should be done, but plenty of people out there who are willing to share their experiences with us.   I will try my darndest not to dwell on my past, or other peoples' pasts.  I need only to look into your eyes and see that you are already three and we STILL share a roof and sing in the rain and get to visit uncharted planets and interpret their hieroglyphs  so I have already got my pops beat (rest his ever-trying soul) by leaps and bounds! Maybe some of you will find some 'how-tos' in the pages of this blog.  Hopefully you will share some of your own.  But even if no one ever reads a word of it but us you will always know that I did my best by you, that I gave of myself 100%, that nothing was EVER more important to me than being your dad, even back when I thought I was fathering blind.