"But what happened, Miss Simone? Specifically, what happened to your big eyes that quickly veil to hide the loneliness? To your voice that has so little tenderness, yet flows with your commitment to the battle of Life? What happened to you?"- Dr. Maya Angelou, Redbook
Here's what I knew about Nina Simone: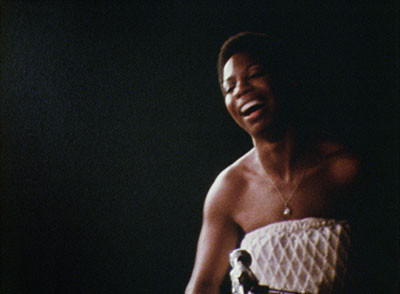 I knew that my wife was fond enough and fan enough to name our second born after her. Simone, as a middle name, had a certain alchemical cadence when coupled with the first name we'd chosen and while not enamored at first it quickly cast its melodic magic on me as well.
I knew that she was a black woman. I knew that she somehow came to symbolize the quintessential "strong black woman" in an era when neither descriptor was seen as much of a positive in the mainstream.
I knew that she was, by now, well known for singing certain standards like "I Put A Spell On You," "Do What You Gotta Do," and the self-same negro-spiritual that my father used to sing to me, often and everywhere, but most memorably while in the kitchen on a bar stool bent over some masterfully crafted baked goods coming to fruition in the oven: "Children Go Where I Send You."
And then one late night last week, long after the kids and the Mrs. had gone to bed, I scrolled upon what turned out to be the best musical-bio documentary I have ever seen. Academy Award-Nominated and Emmy Award-Winning Producer/Director Liz Garbus' 'What Happened, Miss Simone?" streaming now on Netflix.  To say that I had only scratched the surface and knew next-to-nothing about the steadfast, tortured, and tormented High Priestess Of Soul-her trying life and cultural iconicism- is an epic understatement.
"I have spent a lot of that time listening to what people think they know about Nina Simone. My mother is loved by millions of people around the world. As I said when I spoke before audiences at the Berlin Film Festival, I realize now how myths and legends are born. There is a kernel of truth. It all begins with that kernel and then it becomes distorted into facsimiles of pieces that resonate with other people. It tends to become something no longer resembling the truth. This film takes us into my mother's story — in her own words — her Truth. One of the biggest things I wanted to make sure I did in my mother's memory was ensure that her truth lived properly. That is what WHAT HAPPENED, MISS SIMONE? is."- An Interview with Nina's Daughter – Lisa Simone Kelly
Here's just some of what I didn't know about Nina Simone: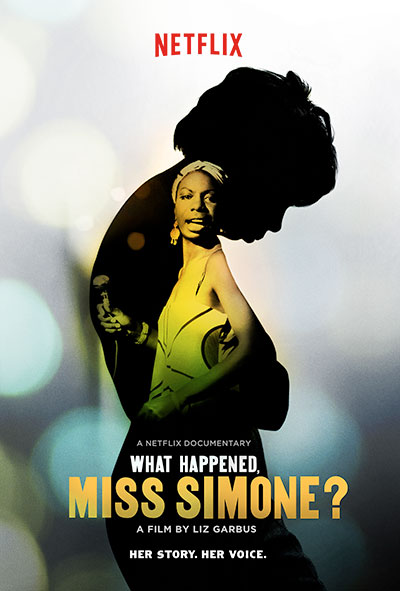 I didn't know that she was a classically trained musician; that she was being groomed since childhood to be the very first black, classical pianist; that she blended and melded her classical roots into music that was wholly her own. I read somewhere that most western music takes place on the one and the two but jazz happens on the and. I have come to learn that Nina Simone's own brand of sultry and melodic and haphazard and melancholic music occurs on all three- and in all of the voluminous spaces in-between.
I didn't know that peace was a high note she could never hit. I didn't know that she was beaten, abused, and misused, physically and that she spent her life trying to strike out emotional demons and identity misgivings with the keys of her piano.
I didn't know that Malcolm X was her neighbor; that she wrestled, internally, with the notion of "by any means necessary," and that she chose to become a pillar of the Civil Rights Movement, often at the expense of her own commercial potential- a struggle she touches on forlornly in the film while kicking down the cobblestones of France, destitute and lonely, late in her life.
I didn't know how much fire and anger was pouring out of her soul in songs like "I Loves You, Porgy," "Mood Indigo," "Little Liza Jane," and "Mississippi Goddamn" (Quite possibly the saddest yet most beautiful song in her body of work when taken in the context of the times.)
I will certainly be watching 'What Happened, Miss Simone?' again, with the Mrs., soon. I will be watching this film with my kids in the future. I highly recommend that you watch it right now, yourself. To sign up for Netflix and start your free trial click here.
From Netflix:
WHAT HAPPENED, MISS SIMONE? uses recently unearthed audiotapes, recorded over the course of three decades, of Nina telling her life story to various interviewers and would-be biographers. From over 100 hours of these recordings, the film weaves together Nina's narrative, told largely in her own words. Rare concert footage and archival interviews, along with diaries, letters, interviews with Nina's daughter, Lisa Simone Kelly, friends and collaborators, along with other exclusive materials, make this the most authentic, personal and unflinching telling of the extraordinary life of one of the 20th century's greatest recording artists.
(Disclaimer: I received product and viewing hardware as compensation for this post. Although I am a member of the Netflix #StreamTeam, all opinions are solely my own.)
Thanks for reading and as always, be sure to follow the antics on Instagram, Twitter, and Facebook!