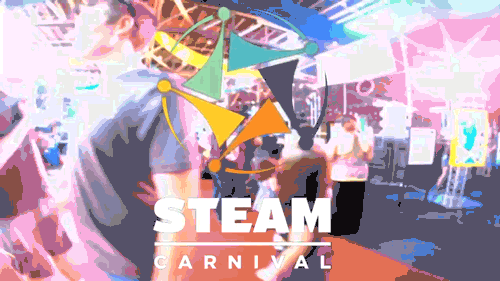 After its highly successful inaugural run in Los Angeles, STEAM Carnival (San Francisco) is finally coming to our beloved City By The Bay and, for the next two weeks, I have your chance(s) to win a Family 4-Pack of tickets by entering the giveaway in the widget at the bottom of this post! Many thanks to the fine folks at Two Bit Circus for providing a 4-pack of tickets for my family of little makers, tickets for the families of the dads in our SF Dads Group, and a 4-pack for one lucky winner that will be selected at random from entrants of this post's giveaway, on October 26th, 2015.
–
There is nothing quite like the feeling I get when my kids create something. My 5-year-old is constantly crafting some elaborate contraption out of household items. She'll string toilet paper rolls together with Mama's yarn, duct-tape the reticulating creation from door knob to bed post, and name it something functional, inevitably ending in "erator."
A few weeks back she participated in the Global Cardboard Challenge with the other 5-year-olds at her school, where she made a working (for all intents and purposes) drum kit out of the cardboard coffee canisters I'd contributed to the cause.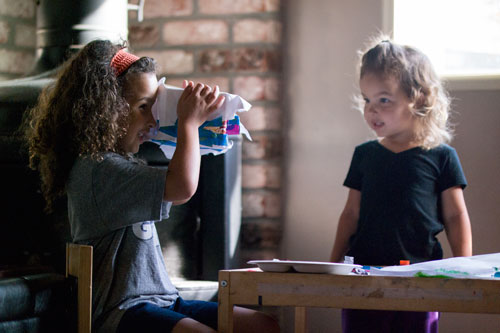 Some days later I overheard her, sitting at her crafting table, explaining to her younger sister the inner-workings of the cardboard "camera" she'd made that day, complete with telescoping "lens" and "shutter button." (Music to this photography-hobbyist dad's ears.)
Living here in the Silicon Valley, with a Mama who works in tech and a Stay-At-Home-Dad who walks her to "little kids school" every day, past the STEM Academy that we call "big kids school," my daughter may very well be destined for some sort of science/engineering success in her lifetime. Of course, the greater life choices will be her own but I'd be lying if I said that the prospect didn't excite me a little. And now that STEM education (Science-Technology-Engineering-Math) is almost universally incorporating Arts into the formula, as STEAM, I can't currently think of a course of study that would make me happier as a parent.
That's why I was beyond elated to discover that STEAM Carnival will be making its way to the Bay Area for the first time,  to be held November 6-8, 2015 on Pier 48 at AT&T Park in San Francisco.
For those of you that don't know, STEAM Carnival is a high­ impact, high ­voltage entertainment showcase that's fun for all ages. STEAM Carnival uses technology-infused games, attractions, and immersive hands-on experiences that thrill, amuse and re-imagine the way we learn about STEAM (science, technology, engineering, art, and math.)
Some of the attractions at STEAM Carnival include:
High-tech games including rooms of lasers, walls of buttons, and backyard classics made HUGE

Mad science demos

Circus acrobats, aerialists, and fire breathers

Virtual Reality lounge

Trash for Teaching
In fact, take a minute to watch this brief preview video and I won't blame you if you then skip directly to the giveaway widget at the bottom of the page, it's that frickin' cool!
Need I say more? If you need more convincing that YOU NEED THESE TICKETS, check out the STEAM Carnival website and YouTube channel. You can also find STEAM Carnival on Facebook, Twitter, and Instagram.
If you can't stand to wait until November 2nd to find out if you've won, STEAM Carnival and I have discounted tickets available for you (the highest savings possible at $15 kid tickets and $20 adults tickets) using my exclusive promo code "steamkidssf" (no quotes.)  The code is valid until October 31st and tickets can be purchased in advance here. 
So, go fill out those entries in the Rafflecopter widget below. Bookmark this page and come back daily for more entries! I hope to see you all at this year's STEAM Carnival San Francisco and if you want to meet me and need to find me, I'll be doing my best to meet this guy, and maybe we can find him together. So rad!