Back when I was still knee-high to the grown folk and living with my mom, "Back East", as us Californians call it, I spent the majority of my days playing "Dinosaurs" in an unforgettable forest of sorts, in a giant park called Providence.
I'd cross the street from our apartment and descend the gravel path, into those deep woods – the skyscraper-high Hemlocks and Pitch Pines eclipsing the afternoon sun. The path would give way to a carpet of brush and fallen tree debris and in the make-shift dark of canopy shade the crunch and crackle of each footfall would send unseen Gray Squirrels scurrying off ahead of me. I'd imagine they were frightened murids or other prehistoric rodents. I'd imagine the boulders that lined Providence Creek were monoliths and I'd scale them courageously and my struggling grunts and utterances would facilitate a massive ruffling and a sudden puff of frantically flapping black birds, startled and escaping the treetops in unison.
And then I'd imagine that it wasn't me that had scared them. I'd hear a thunderous boom and then another and the forest floor would rumble beneath me and the tree creatures would fall silent. The curtain of enormous trunks in front of me would part and from the black void therein would issue forth a bone-chilling, guttural rumbling; the gritting of obviously enormous teeth, a growl that pushed my hair back and I'd know, right away, that T Rex was coming.
I spent countless hours in that park conjuring Jurassic apparitions in my mind. My imagination was the catalyst for all of my creative play and, in itself, the only limit to it. These only-child memories had lain dormant for years until the other week when I opened a box I'd recently received from Hasbro. In it were a few toys from its Playskool Heroes line including – what else- a Jurassic World Tyrannosaurus Rex figurine with light-up-eyes and a bellowing growl that rivaled the ones I imagined during my "Dinosaurs" game and echoes the one made famous by one of the most celebrated movie franchises in history. There was hardly time to wax nostalgic before my kids ripped into the boxes and were filling the place with imaginings of their own. In fact, they fell so instantly in love with T-Rex that I had to race out and buy a second one so they could have epic backyard Jurassic battles. A dad's gotta do…
The idea behind Playskool Heroes is perfect for our family dynamic. Little Sister, not quite old enough to play with Big Sister's toys or watch Big Sister's favorite shows and movies. Big Sister, not quite old enough to play with Dad's toys or watch Dad's favorite shows and movies. Playskool Heroes appeals to us on all of our individual levels, by scaling down (but not dumbing down) some of the superhero storylines I absolutely love. As the girls both inch closer to the day when I will show them titles like Jurassic World, The Transformers, and the Marvel Comics movies, Playskool Heroes allows them to familiarize themselves with some of the stars of the shows while simply playing with universal toy-hits like robots, ships, dinosaurs, and superheroes. They imagine the fanciful set locations.They create the compelling plotlines. Imagination – don't leave home without it!
And we don't! The girls have been taking these things everywhere we go! Our own backyard, the scenic peaks of San Francisco, The Santa Cruz Beach Boardwalk, and even Hawaii. For the consummate Stay-At-Home-Dad who refuses to stay at home, this has been a wonderful couple of weeks of travel and witnessing all-out, imaginative creative play! Check it out!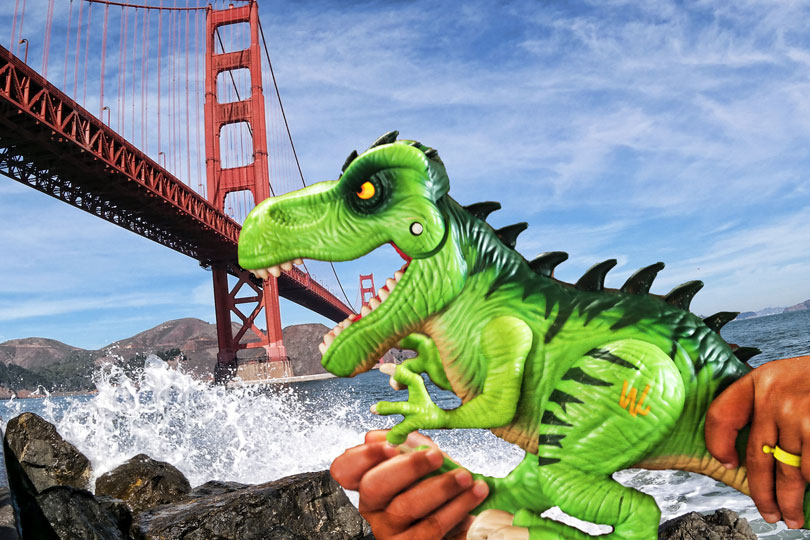 Jurassic World Tyrannosaurus Rex is a definite fan favorite! His mouth actually chomps, his eyes light, and that roar! T-Rex comes with a human handler figurine and needless to say, he provides hours of pure chewing satisfaction for this big beast. This guy has been all over the Bay Area with us.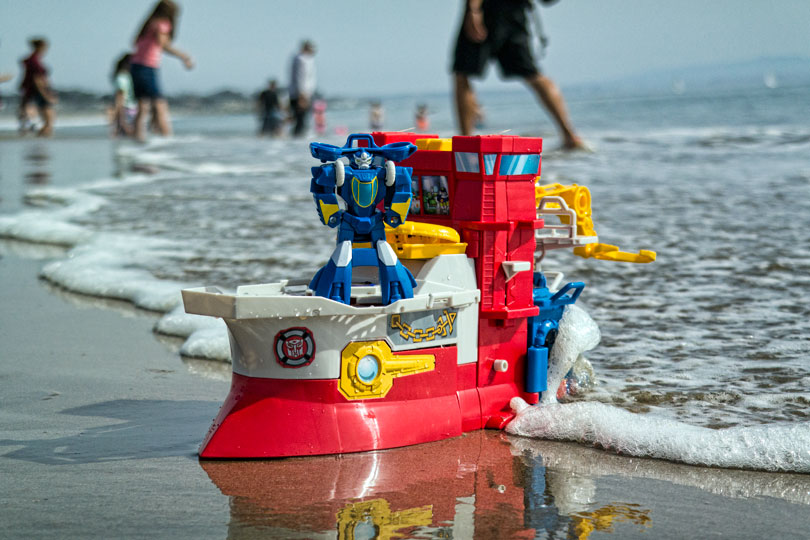 We traveled south to the Santa Cruz Beach Boardwalk for some fun in the sun with family and, of course, the girls wanted to show off their new Transformers Rescue Bots High Tide playset to their cousins.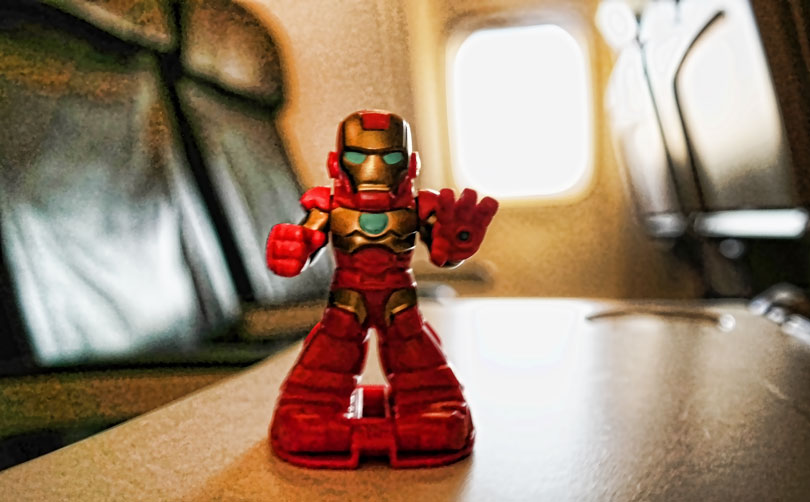 And, yes, the girls insisted we bring Super Heroes Adventure Iron Man with us to the Big Island. Unfortunately, his vacay was cut short by a rogue wave. Check out the video below. I'll be buying another of these soon, too, I'm sure.
With Playskool Heroes, I can tell that the adventures have just begun. As a father, I'm not a fan of amassing loads of unloved toys and toys should never be simply pacifiers. Toys like Playskool Heroes are conduits, through which a child's innate creativity and imagination can flow. And my girls can hardly put theirs down! With these Playskool Heroes playsets, they are crafting the stories themselves, whether it's Iron Man sunning himself along the Kona Coast or the endless T-Rex backyard battles for alpha dominance. The superhero action begins with Playskool Heroes, in our house! Makes a dad proud to watch his little girls creating such BIG adventures!
–

MORE ABOUT THE TOYS: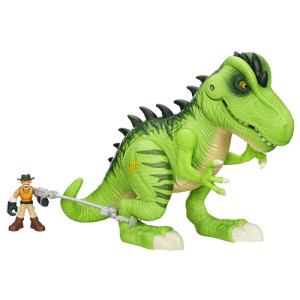 JURASSIC WORLD TYRANNOSAURUS REX
(Ages 3 years & up/Approx. Retail Price: $29.99/Available: Now)
Tyrannosaurus Rex is the ultimate dinosaur for preschool JURASSIC WORLD fans to track and capture! Features light-up eyes and a roaring action. Includes a human figure and a capture cuff to track the Tyrannosaurus Rex but watch out – the head-chomping Tyrannosaurus Rex might gobble the human figure up first! Includes a human figure and capture gear. Tyrannosaurus Rex figure requires 2AA batteries, demo batteries included. Available at most major toy retailers nationwide and on HasbroToyShop.com.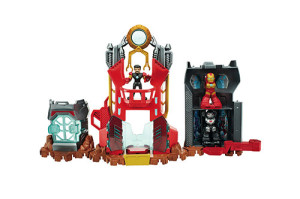 SUPER HERO ADVENTURES IRON MAN ARMOR UP FORTRESS
(Ages 3-7 years/Approx. Retail Price: $29.99/Available: Now)
Tony Stark is ready for the next mission with his SUPER HERO ADVENTURES IRON MAN ARMOR UP FORTRESS playset! Pretend to re-enact one of the most iconic moments from the Marvel cinematic universe—Tony Stark armoring up to become IRON MAN. With lights and sounds, the IRON MAN ARMOR UP FORTRESS playset makes this moment come alive! Place the Tony Stark figure into the top of the IRON MAN ARMOR UP tower and push down on the tower to lower the Tony Stark figure into his armor below, which activates with lights and sounds. The IRON MAN ARMOR UP FORTRESS playset also features a capture cage, Hall of Armor where the IRON MAN suits can be stored, and the ability to be reconfigured so that preschoolers can customize the fortress. The IRON MAN ARMOR UP FORTRESS playset includes a Tony Stark figure and 2 suits of IRON MAN armor – 1 classic red suit and 1 blue suit. This fun playset makes the world of Stark Industries the perfect setting for little heroes' biggest adventures. Requires 1 AA battery. Demo batteries included.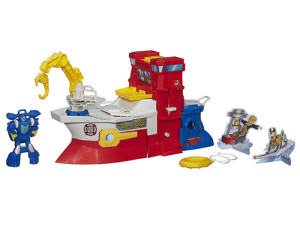 TRANSFORMERS RESCUE BOTS HIGH TIDE Playset
(Ages 3-7 years/Approx. Retail Price: $29.99/Available: Now)
RESCUE BOTS fans can dive into big sea adventures as they take command of the TRANFORMERS RESCUE BOTS HIGH TIDE Playset! The new recruit, HIGH TIDE, now acts as the new RESCUE BOTS command center for ocean rescues.  Load the HIGH TIDE figure into the command center console, then pull up on the lever to help HIGH TIDE assume full command of his ship. When High Tide needs to dive below for a deep sea rescue, press down on the lever, and twist open the hull to reveal HIGH TIDE converted into his mini submarine form! Preschoolers will be amazed at this easy to do conversion. The High Tide playset also comes with a capture cage with trap door and a crane with multiple rescue tools.
FIND AND FOLLOW HASBRO & PLAYSKOOL HERE:
Instagram: @Hasbro  •  Twitter: @HasbroNews  •  Facebook: Facebook.com/Playskool  • www.hasbrotoyshop.com #PlayskoolHeroes
–

A dino-sized thanks to Playskool Heroes, for gifting my kids with these incredible playsets! While I have been compensated for this post, all opinions are entirely ours.
Be sure to follow us on Instagram for the more visual side of my journey as "The Stay-At-Home-Dad who refuses to stay at home!"