You know all of the festive Holiday jingles. Sing em' with me.
"♪ It's beginning to look a lot like REPEAT, ehhhverywhere Dubs go…♫"
"♪ Ohhhh holy crap, the Warriors are off to the greatest season start in all four major sports historyyyyy…♫"
"♪ All I want for Christmas is for Steph Curry to continue to have nearly 40 more 3-pointers than the league's next closest contennnnnderrrrrr…♫"
The San Francisco Bay Area is a fine town to be raising young sports fans in, these days. The Super Bowl is here this year, for one thing, and while the 49ers don't stand a Clipper's-chance-in-Oakland of playing in that home-game-of-all-home-games, the team isn't that far removed from their last Big Game appearance and Bay Area sports fans remember the dynasty days like they were yesterday.
Couple that with the near-guarantee that the SF Giants will continue to win the World Series every even numbered year, and the rate that the current NBA Champion Golden State Warriors are crushing the competition (20-0 to start the season!), and you've got plenty of fodder for some friendly (or otherwise) smack talk. Well, why just talk smack when you can wear it? That's why, this Holiday Season I've joined the #HolidaySmack team of championship bloggers to help tell the world about Smack Apparel, the funniest sports shirts you'll ever find! And, I am giving away a free Smack Apparel tee of choice, to one lucky reader!
"Curry's the best shooter I've ever seen." – President Obama, talking Executive smack

"You're a bad motherf$cker, boyeee!" – LeBron James, to Steph Curry
Smack Apparel has been the nation's leading sports rivalry apparel company since 1998. They make t-shirts and other gear that taps into the passion of college and pro sports fans, everywhere. Coolest part is, Smack Apparel creates unlicensed apparel and accessories, which means the company's creative designers and artists are free to test the boundaries of smack talk. Limitless smack! In other words, they make unique and funny stuff you can't find anywhere else, rather than run-of-the-mill stuff you might buy at a stadium store.
As I've told you before, having grown up in the DC Metropolitan Area, I'm a Washington Redskins fan, and while I'll never tire of talking smack about those loathsome Dallas Cowboys, the scrutiny over the team's name as well as the NFL's less-than-stellar record of handling domestic violence incidents, makes it all the more easy for me to steer my children's early team allegiances toward these wholesome-seeming, splashin' and dashin' Golden State Warriors. Smack talk is a lifelong pursuit — teach your kids early! Be sure to check out the Rookie Wear line for infants and toddlers!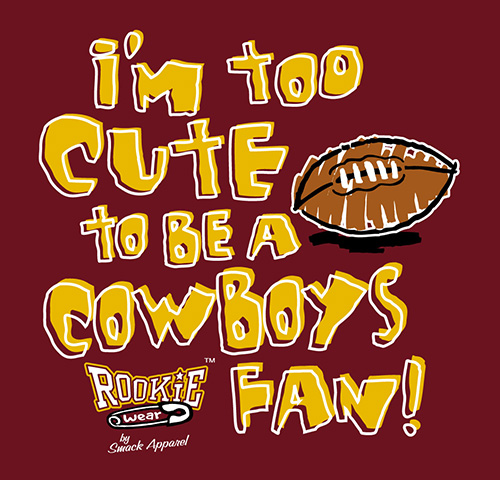 Smack Apparel makes t-shirts for sports fans who love to talk smack and want the world to know it. They offer a variety of sports smack t-shirts for men and women, as well as the Rookie Wear line of baby apparel, that will make the ideal Holiday gift for every fan, this season. AND, they are offering free shipping on direct website orders until Dec. 31. 
So, no, as much as I love my hometown Skins, I won't be putting any Washington gear under the tree this year (as clever as some of the Smack Apparel offerings are). With Kobe Bryant's recent retirement announcement, and the SF Giants having just come off of another odd-year debacle in the Big Leagues, there is only one choice for my little native Californians and that's #DubNation #HolidaySmack designs from Smack Apparel, all day!
Before you click the widget below for a chance to win one of your own t-shirts from Smack Apparel, check out this slideshow of just some of the team designs available, including some Niners and Giants stuffs for you locals! Happy Holiday smack-talking, y'all!
Be sure to keep up with the latest designs from Smack Apparel by following them on Twitter, Facebook, and Instagram.
Enter my giveaway, below!
a Rafflecopter giveaway

***Disclaimer: I have been compensated for running this giveaway but, as always, I wouldn't write it, if I didn't mean it.***