I'm part of the Yo-kai Watch campaign you've seen around the Internet (you can find some great posts on social media using the hashtags #YokaiWatch and #YKWdad), and I've been looking forward to watching the Disney XD show with the girls and sharing our adventure with you. But something has happened. Or somethings. Every time we start to play with the very cool looking Yo-kai Watch toys that Hasbro sent over (thanks, Hasbro!) another crazy thing keeps us from it. I thought it was just a coincidence, until I found this note:
You'll never find us, kids. Sure, you might see an episode of Yo-kai Watch on Disney XD or , but that's it. We're far too sneaky for you.

In our defense, it isn't mischief that we crave, rather we need to make things a lot more interesting. Especially for us. Seriously, what's the point of being Yo-kai if we can't have a bit of fun once in a while?

 It used to be that we could do whatever it was that we wanted, and nobody, especially humans, would ever be the wiser. Did you step in a deep puddle on your way to school? That may have been us. Did your favorite pair of underwear suddenly shrink beyond fit? Us. Fail a math test? Guilty. Are things changing in your life that are hard to understand? Well, sometimes that just happens. We can't take all the credit. Talk to your dad, he knows stuff.

 The point is, we're going to keep having fun, and that might make life a bit messier for everyone, but Yo-kai gonna Yo-kai.

 Whatever you do, do not put on the watch that Hasbro sent you. Do not place the interactive discs in it. Do not learn our names and sing our songs. Do not try to befriend us or collect us all. We do not want to be found. You kids are helpful and do good things. We do not want to be helpful and do good things. We don't think this will work, and you should just leave that Yo-kai Watch in the package it came in. We think that would be best for everyone.

 Not your friends,

Yo-kai
I asked the girls  and their cousins if they wanted to respond to the Yo-kai, and they did. They responded with action, teamwork, and a ton of cuteness!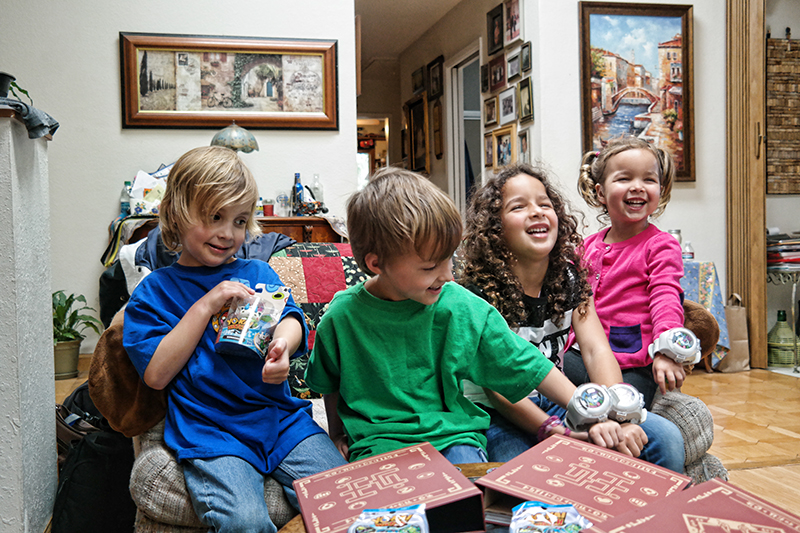 The Yo-kai don't stand a chance.
I was compensated by Hasbro for this post. All opinions belong to me, my children, and the Yo-kai.